Local Herb Society Meetings
One of the great benefits of becoming a member of the Herb Society is the opportunity to meet like-minded people locally and join in with events.
A few weeks ago, such an event took place for the Northwest Herb Group at Hooksgreen Herbs (Stone, Staffordshire) led by Herb Society Treasurer Malcolm Dickson and his son Thomas.
Malcolm was pleased that the Spring weather was kind on the day. After a welcoming coffee, he made a presentation on "Showing and Growing Herbs" which gave everyone an idea of what Hooksgreen Herbs' main activities were during a busy show year.
The members were then split into two groups and Thomas demonstrated sowing seed while Malcolm showed the other group how to take cuttings and split mint and oregano. Everyone had a chance to fill a tray with a variety of species which they took home. After a lunch break the groups swapped around.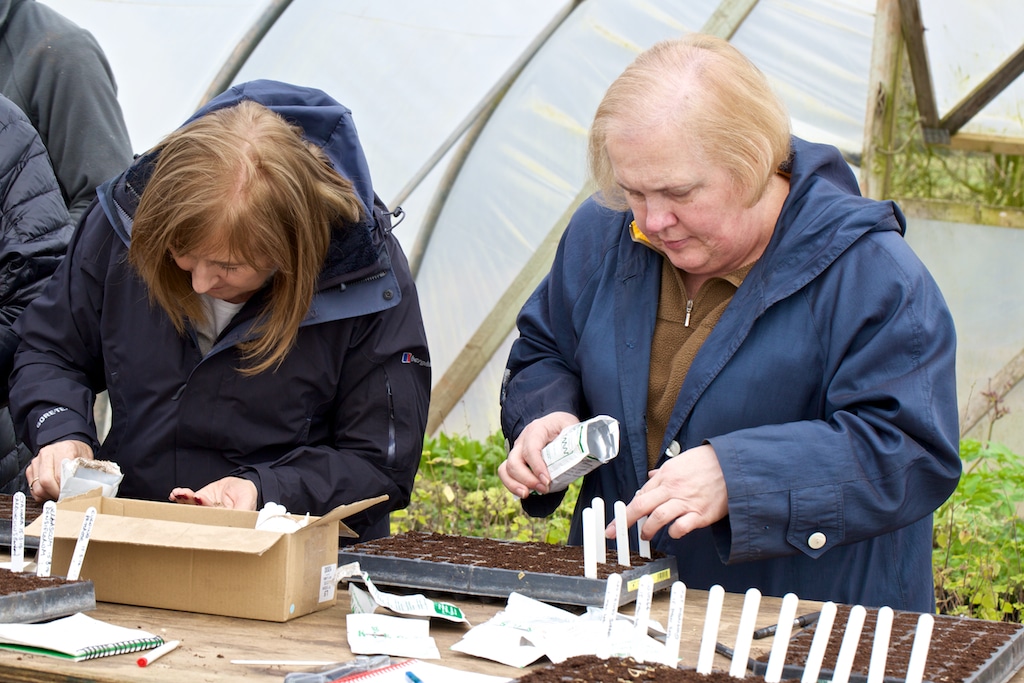 Malcolm was pleased to report "The youngest member of the group Ronan was keen to source the herbs he had listed prior to his visit and was able to fill his tray with cuttings and seed." We think Malcolm should be proud of his ability to inspire new generations, not only within his own family, but from outside it too.
Some of Malcolm's propagation methods were surprising, and he says "Some of the group were amazed to see the use of an old wood saw to split the large pots of mint and oregano, but the resulting four pots illustrated the need to slit and proliferate."  The day was rounded off with tea and cakes and a quiz by Susie Dickson.
See more photos of the day on our facebook page at Facebook.com/herbsocietyuk
Local herb group information is available to members inside the Herbs journal and via our website at herbsociety.org.uk
The Dickson family sell their herbs online and through shows, winning a well-deserved RHS Silver Gilt Medal at the 2013 Chelsea Flower Show. Find out about their 2014 stand
Written by Ruth (Social Media Advisor and herb enthusiast).