A Handful of Herbs
A modern herb book
When I received this book from the publisher, I was immediately tempted to flick through, drawn in by the lovely photography by Caroline Arber and William Lingwood.
A Handful of Herbs has the subtitle Inspiring ideas for gardening, cooking and decorating your home with herbs.
It is divided into sections on Super Herbs, Gardening with Herbs, Living with Herbs, Cooking with Herbs, and an A-Z of Herbs. There is also a useful list of suppliers at the back, covering herb seeds, live plants and dried herbs, with UK suppliers conveniently separated from those in the US and Canada.
Super Herbs
In this section, Barbara Segall looks in detail at her top twenty herbs, describing their uses and growing requirements. This section would be a good starting point for gardeners looking for inspiration for herbs to grow.
Gardening with Herbs
As well as a basic "How to grow herbs", garden expert Barbara also discusses using herbs in different contexts such as within a border. In the section on ground cover, the idea of creating a chamomile seat is briefly discussed, and I would personally have loved to have seen photos of this as a possible garden project. Also under ground cover was a useful explanation of which plants will withstand being trodden on if used in a path. Other sections include hedging, containers, and growing a collection of herbs. Only a couple of pages were devoted to the kitchen garden, but they were packed with tips, and individual growing instructions for plants had already been given in other chapters. I found it useful to read about growing herbs indoors, because although it can be very handy to keep a pot or two on the kitchen windowsill, this isn't always the optimum situation for the plant!
Living with Herbs
As a bit of a crafter, I particularly enjoyed the Living with Herbs section, which contains tips on using herbs for the home, such as potpourri making and home fragrance. One tip I liked was the idea of using dried herb bundles to light your winter log fire: a waft of summer during the darkest months! There is a wealth of tips in this chapter, such as how to use herbal cleaning products and insect repellents, make herbal table centres, wreaths and garlands, or scented writing paper decorated with pressed herbs. The section also goes briefly into cosmetic products, providing simple recipes for handcream, toner and lip balm among others.
I would have thought that anyone with an interest in herbs would find a few projects they would like to try themselves!
Cooking with herbs
There are 35 recipes in this section. I was particularly taken with the idea of making my own soft herb cheese from yogurt, and will definitely try the quick and easy pasta recipe with pine nuts, rocket and ricotta. Great tips include infusing your hot milk with mint leaves before using to make hot chocolate!
A-Z of herbs
In the A-Z section, Barbara Segall has compiled a list of 75 of the most popular herbs, with a paragraph for each on growing tips and their uses. With so many to choose from, even the most experienced gardener is bound to find something new!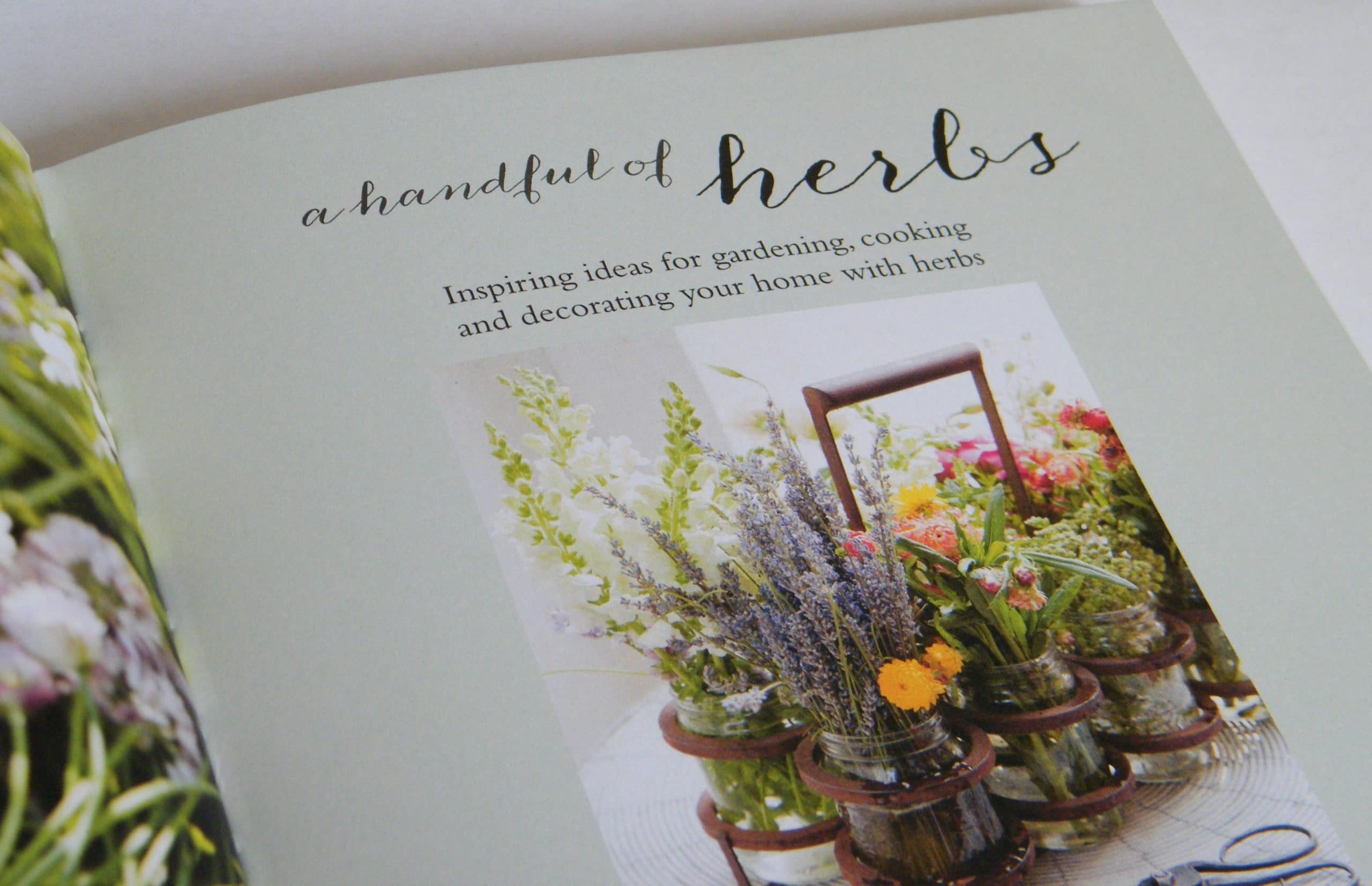 Find out more about this herb book
I found this book overall a good and accessible read. I am an experienced gardener and keen crafter, but found many useful nuggets of information that I will be able to use. I think the high quality gardening advice given here would also make it a handy read for novice gardeners.
A Handful of Herbs by Barbara Segall, Louise Pickford and Rose Hammick is published by Ryland Peters & Small and is available from Amazon and all good book shops – the hardback cover price is £12.99. The first few pages can be previewed by following the Amazon link. This book was first published in 2001, and the 2016 edition has been fully revised and updated.
Barbara Segall is editor of the journal Herbs, which is sent out quarterly to Herb Society members. Find out more about the society by downloading the leaflet, top right.