Written by Kate Scott
November is a busy month for me, I have been harvesting rosehips to use in salves, oils and soaps and drying hawthorn berries for Nettle berry Tea, a friend told my about Rosehip wine recently so if I have time that would be amazing to make! I find I can never have enough baskets, this one I made when I lived in Wales but my absolute favourite is the one I inherited from my grandmother, we used to go out round the lanes around Shaftesbury collecting kindling for her fire, I was taught to look for the sticks with black dots on as they burned better, and we would return when we had a basket full to bowls of beans with a knob of butter eaten in front of the fire.
Nana told me all about my herbal ancestors, how Gran Wright would have bunches of nettles, mugwort and yarrow hung from her scullery ceiling, how she and her mother before her would walk to the neighbouring villages to deliver babies with a bag of remedies, and she taught me to have an eye for plants in the hedgerows.
November is also a busy month out in the field, with Percy the new ram off to meet the ewes. I paint his chest with blue raddle just to keep an eye on his activities and hopefully we will have plenty of lambs in the Spring!
I keep Poll Dorset ewes for their wool and to milk after lambing for my soaps and candles, most are very obliging and milking by hand is a lovely chance to bond and have a chat with the girls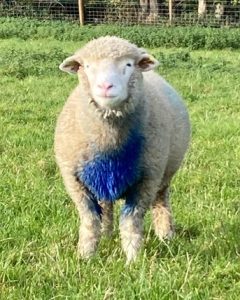 In other news I was absolutely overwhelmed to win The Rural Business awards best Start-up Business for the East, something I really didn't expect in my wildest dreams! I started making salves many years ago , before I qualified as a herbalist, when a particularly cold wet winter farming  chapped my hands , the soaps came a little later but wool has always been there for me ever since I was a little girl with my hands outstretched impatiently holding skeins of wool as they were wound into balls before being magically transformed into beautiful Fair Isle designs.
Simple salves are easy to make , you just need oil , organic sunflower is absolutely fine, a herb or two of choice, and beeswax
50ml oil
A tablespoon of dried calendula petals
10g beeswax
Take a double boiler ( or pyrex bowl over a saucepan of water) and pop in your oil and herbs , warm the oil gently just so you can hold your finger in it, don't let it get too hot! Take it off the heat after aroundabout half an hour, and put on a lid. You can leave it to infuse overnight, straining through muslin the following day.
Measure the oil and for every 10ml add 2g of beeswax, return to the double boiler and gently heat until the beeswax is melted. Pour into a clean sterilised jar , put on the lid and label J
You can follow me and the flock on social media @thedroversdaughter or sign upto the newsletter through the website for the latest news and discounts