Very dangerous plants
Some plants can be very dangerous or irritate, mainly if swallowed, but sometimes even through touch, below are some examples:
Foxgloves
Monkshood
Rue
Henbane
Deadly Nightshade
Laburnum
Yew berries
Nettles
Please take care when choosing or picking plants and ask for advice.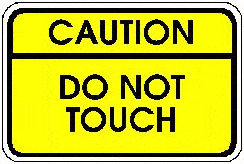 Be HERBWISE
Be sensible and careful.
Always find out about a plant before you pick it.
Never eat a plant even if your friends say "It'll be alright".
Ask an adult who knows about plants and herbs.
Look in a book or use the Internet – make sure you identify it carefully.
Remember – a plant may look pretty but be dangerous.