Here you can find details of our corporate members (listed in alphabetical order:
                    
We are a small nursery in a garden/ residential setting specialising in growing herb plants and wild flowers – established in 1989.  We have a range of approximately 100 varieties.  Plants are started off in 2 greenhouses with limited heat and we therefore have a wider range of culinary herbs available over the summer months.  We are open mainly at the weekends and some weekdays over the growing season – please telephone (01625 539166) first if you are travelling any distance.  We can happily provide information and growing advice on herbs and have garden design knowledge and expertise.
We can provide talks or small group visits with notice on a range of topics including the history of herbs, their culinary, medicinal and traditional uses, and current trends in growing herbs.  Please also see our website blackbrookherbgardens.co.uk
Encouraging people to cook with fresh herbs to enable good value, healthy, easy cooking and drinking. Selling herbs in cookery themed pots, and as individual herbs of the month, and running cookery courses. Running the business with the purpose of making a positive social, economic, and environmental impact.
Visit our website at www.hawkwellherbs.co.uk
We are a family owned and run business based in the flat Lincolnshire Fens.   Over 200 varieties of herbs and plants grown by my family locally.
Hetty's is an online store selling potted plants and seeds of both popular and unusual Herbs,     Lavenders, Strawberries, Wildflowers and more. All plants are carefully packed by hand,   wrapped individually in newspaper, using mainly recycled boxes and straw as packaging and   sent via a 24-hour delivery service.
Buying from Hetty's supports a national charity with part of every sale being donated.
Visit the website at https://www.hettysherbs.co.uk/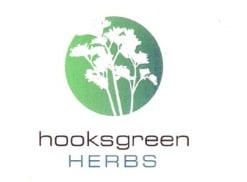 Hooksgreen Herbs Ltd is a family run herb nursery based in Staffordshire selling pot grown medicinal, cullinary and cosmetic herbs to the public. Established in 2004, the company displays and sells their herbs at all the large national Flower Shows as well as local Plant fairs.
The company has two Open Days (details of which can be found on the website) to which everyone is welcome, and refreshments are available.
All the herbs and a full range of seeds are available, for National distribution, on the website at www.hooksgreenherbs.com
Established in 1998, Neil and Catherine grow an extensive range of herb plants at their herb nursery on the outskirts of Alton in the South Downs National Park. Using traditional growing methods, the plants are seasonal and ready to grow on in their new home with you. The plants are seasonal and the collection includes culinary, medicinal, fragrant and decorative varieties, from the traditional and most popular to the more exotic and unusual. Online availability is updated weekly together with details of any farmers' markets, shows and events they're attending in the area or how to plan your visit to visit and choose your own selection from the nursery.
Visit our website at www.pepperpotherbplants.co.uk
WhatShed.co.uk is an online gardening resource site that uses industry experts to help it's readers decide what sort of product might be the best fit for them. We currently mainly focus on garden sheds for sale in the UK. We do also cover greenhouses, summerhouses, log cabins and other garden structures such as workshops and garden storage boxes. WhatShed also has in-depth guides written by experts to help you understand what you should be looking for when buying a shed, wooden or plastic, or greenhouse. Our job is to give members of the public the information they need to get the best value for their money, and to avoid substandard products.
Visit our website at www.whatshed.co.uk
Zen Maitri's Natural Health Apothecary is a health and wellbeing centre in Chiswick, West London. We combine herbal medicine with nutritional and meditation to support our community with a holistic approach to health. Our team of medical herbalists produce our signature range of teas, tinctures, supplements and spa products, as well as bespoke herbal medicines tailored to our clients' health needs.  They work alongside our meditation teachers and nutritional therapists to provide clients with a personalised, more rounded approach to health and well-being.
Visit our website at www.zenmaitri.com
For more information on how to become a corporate member please visit our Corporate Member page.