Herb Society pleased to exhibit at RHS flower show
RHS Tatton Park is held in magnificent parklands in Cheshire. Herb Society council members Barbara and Peter Depledge led a team of North West group volunteers to create a display typical of a 16th century herb garden. They used top quality plants supplied by society trustee Malcolm Dickson and son Thomas at Hooksgreen Herbs.
A Tudor herb garden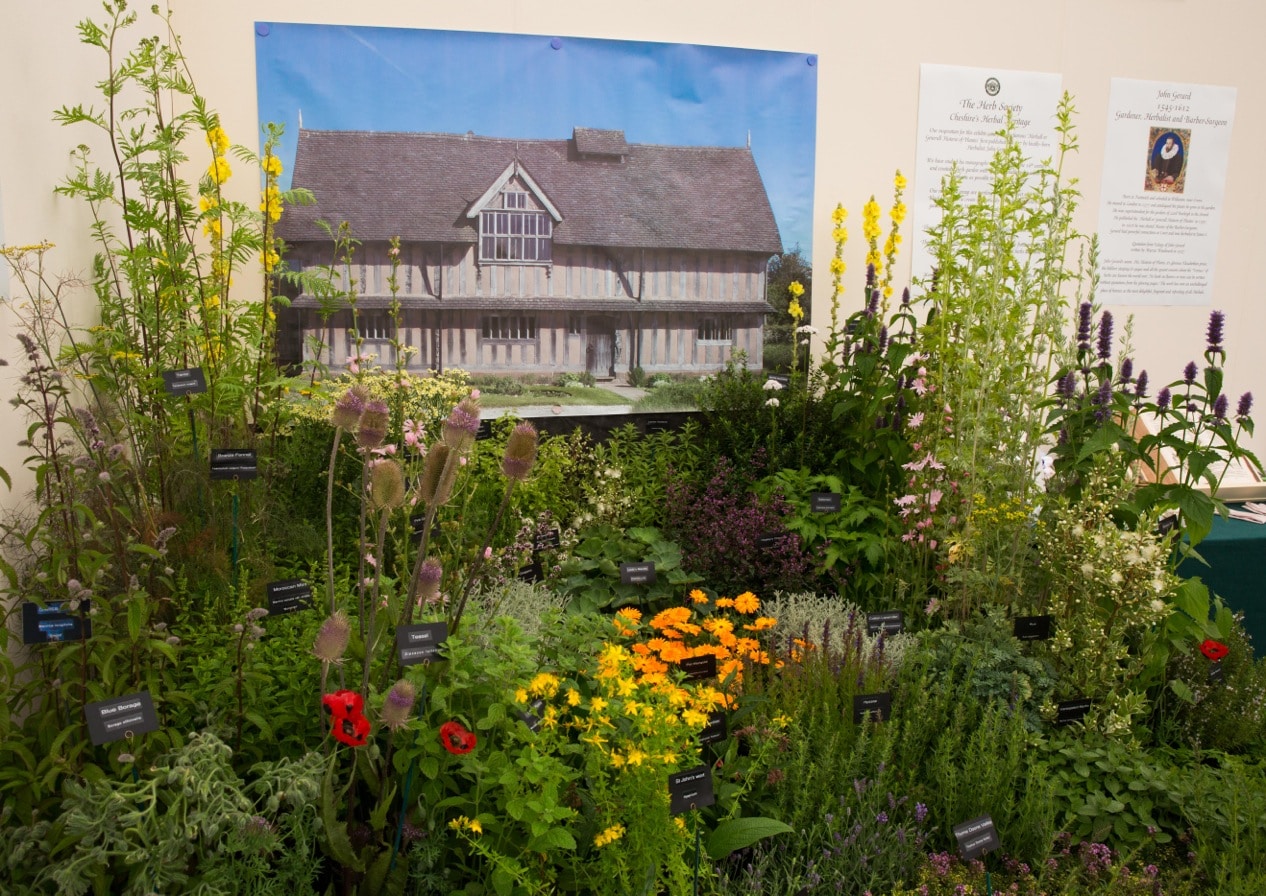 The choice of a garden from this period was decided upon to tie in with the work of John Gerard (1545-1612), the renowned  herbalist from Cheshire. In fact, the Herb Society has a 1636 copy of his Herbal, which was on display at the show. The plants were chosen to be as authentic to the period as possible and including teasels, lavender, mullein, calendula and many other useful herbs.
The beautiful Tudor building pictured at the rear of the display is the Old Medicine House in Blackden, Cheshire which was at one time an apothecary's house. It is run by the Blackden Trust and the Herb Society is planning further collaboration with them in the future.
Herb Society volunteers
Volunteers were very important to the success of the event, and we would like to thank everyone that took part. Peter and Barbara had a total of 27 volunteers from the North West group over the 8 days which is a fantastic response! Pictured below are volunteers Pat Sweetingham filling lavender bags and Sharon Goddard mixing a herb tea. The central photo features the Gerard Herbal, and a selection of herb products for sale.
Pictured below are L-R: volunteer Peter Bowen, Rachel de Thame, Barbara Depledge, and volunteer Sue Hughes in Tudor costume.
Rachel de Thame visited the stand on press day and was very interested in the display, later commenting on Twitter (@herbsocietyuk) "Fascinating stand".
A successful event for the Herb Society
A couple of days into the event, Peter was pleased to report, "the stand has been incredibly busy and very popular with lots of positive comments about our overall design/theme, the herb beds, educational materials and our products; we've had to restock our products twice and we've signed up a good number of new members!"
So thank you to everyone involved for a really successful show, and congratulations on your achievement!
Thanks to Peter Depledge for letting us use his photos in this post.
Watch out for an article about the show in a forthcoming issue of Herbs magazine.
Written by Ruth Ridley